SP Q4 Sessions on Industry Carbon / Energy Goals
The Suppliers Partnership for the Environment (SP) Q4 2020 Membership Meeting was held as a virtual event over October 26-28 this year. After exploring long-term automotive industry environmental sustainability aspirations at large in our Q3 membership meeting, SP organized two follow up sessions in the Q4 meeting focusing in on one key area in particular, industry carbon / energy goals.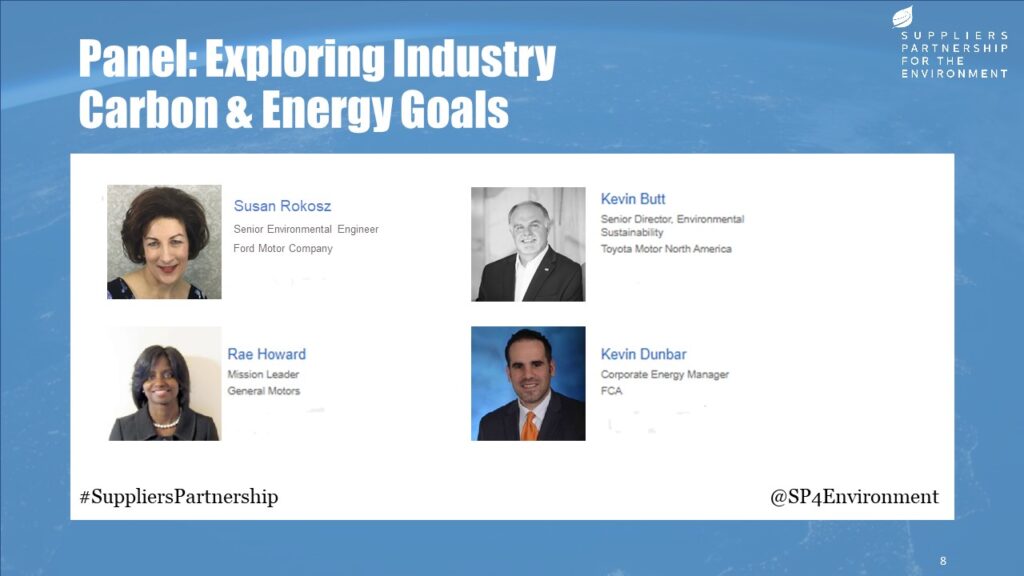 In an October 27 panel session, Susan Rokosz (Ford), Kevin Dunbar (FCA), Kevin Butt (Toyota) and Rae Howard (GM) shared information on the short- and long-term carbon and energy reduction goals their companies have announced, the drivers / context behind those goals, and some of the key terms, definitions and metrics their companies have adopted. The discussion highlighted not only the energy / carbon reductions that have been achieved across global manufacturing operations to date, but also the range of long-term strategies and actions automakers are implementing in areas such as operational energy efficiency, renewable energy investment and value chain engagement to support their carbon reduction goals.
Jack Nunes (Lear Corp.) also shared a suppliers' perspective while announcing Lear's new environmental sustainability leadership goals, including 50% Carbon Emissions Reduction for its Manufacturing Facilities by 2030, 100% Renewable Energy for its Manufacturing Facilities by 2030 and Aspiring to be Carbon Neutral by 2050.
Following the panel Glenn Prickett, President & CEO of the World Environment Center, shared key insights from an executive roundtable that WEC had recently hosted on the topic of decarbonization. Glenn provided a perspective on how companies in other industry sectors are acting on decarbonization and highlighted examples of major global companies that have publicly committed to achieve net-zero emissions between 2030 and 2050. A summary of the WEC roundtable is available at https://www.wec.org/wec-hosts-exec-roundtable-on-decarbonizing-the-business-achieving-carbon-neutrality-in-line-with-scientific-recommendations/
The event continued with a second session on advancing action on industry carbon and energy goals. Al Hildreth (GM) began the session with a review of key drivers and levers for decarbonization in the automotive industry, and discussion of actions that companies across the value chain can take now to begin working toward decarbonization targets. Erich Auer (Audi Mexico) then provided a case study on energy conservation and renewable energy projects that Audi has implemented at one of its manufacturing sites in San José Chiapa, Mexico as it strives to achieve carbon neutral status for its manufacturing operations by 2025. Cem Onus (DEKRA Audits) then discussed the ISO 50001 energy management standard and shared a case study on how DEKRA has worked with one of its automotive customers, American Axle Manufacturing, as they work to certify their global production sites to the 50001 standard.
SP's quarterly membership meetings are designed to provide a forum for global automotive manufacturers, their large and small suppliers, and other partners from around the world to work together toward a shared vision of an automotive industry with positive environmental impact. Through our future SP meetings we plan to continue to dig into the details of the automotive carbon / energy efforts highlighted in this Q4 meeting, together with a range of other industry environmental sustainability goals, to further share best practice across the supply chain and explore opportunities for additional collaborative action.
Additional information on the meeting discussions, presentations and next steps is available to current SP member companies. Please contact us if you'd like to learn more about SP and opportunities to participate as a member. And stay tuned for additional updates on the SP Q4 2020 meetings.