SP Members Meet in Lexington, Kentucky
SP's 4th Quarter Membership Meeting was hosted by Toyota Motor North America on October 26-27 in Lexington, Kentucky.
The Suppliers Partnership for the Environment (SP) provides a forum for global automotive manufacturers, their large and small suppliers, the US EPA and other government entities from around the world to work together toward a shared vision of an automotive industry with positive environmental impact.  SP's quarterly membership meetings provide an opportunity for members to connect and share environmental sustainability best practices and strategies with industry peers, learn about emerging issues impacting the environment and their business operations, and identify new opportunities for collaborative action.
October 26 — Pre-Meetings
On the morning of October 26, attendees had the opportunity to participate in a tour of Toyota Tsusho America's (TAI) Georgetown operations. The Georgetown, Kentucky campus includes several TAI operations and group companies, including Industrial Tech Services (ITS) which has installed solar car ports onsite as well as smart energy monitoring systems. Attendees also had the opportunity to learn about Blackburn Energy, Inc. and its commercial vehicle electrification solution, as well as BetterFrost's energy saving defrosting solutions for EV applications.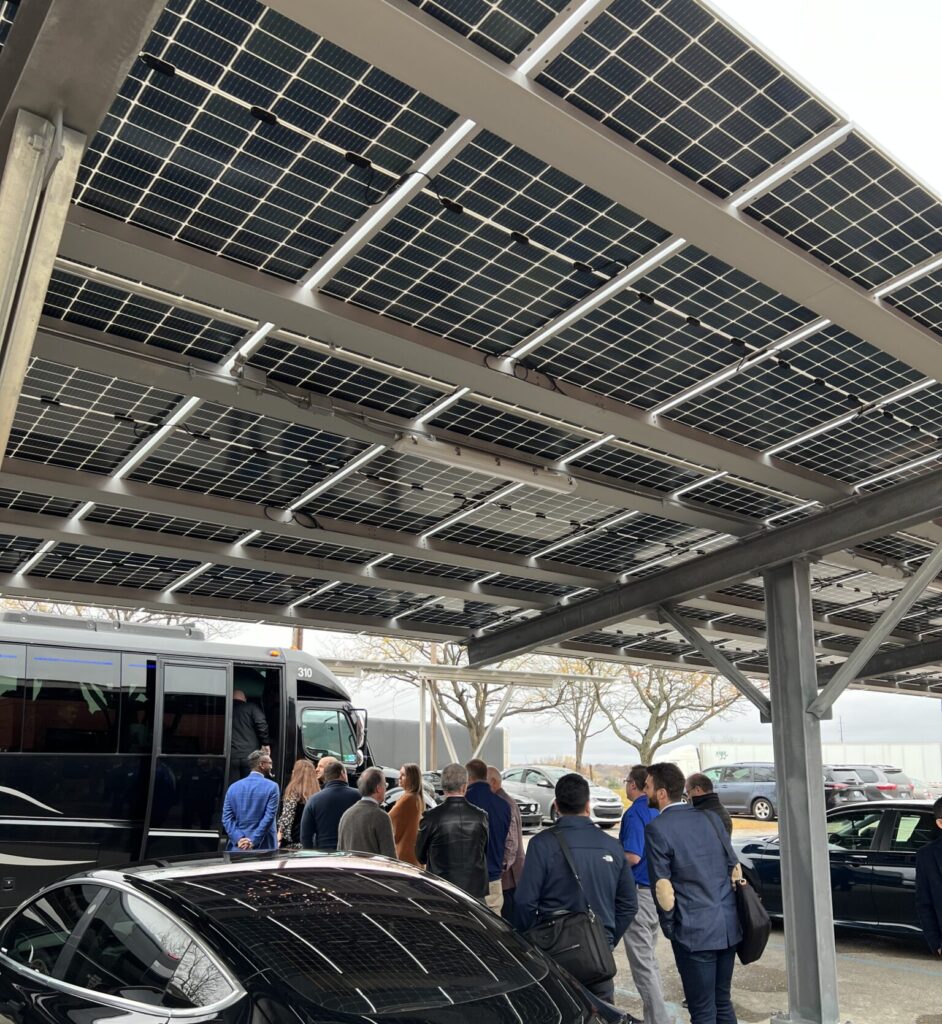 SP's Sustainable Packaging Work Group held a meeting in Lexington on the afternoon of October 26. This Work Group is working on opportunities to minimize automotive packaging waste and address barriers to recyclability and has developed Sustainable Packaging Guidelines for the industry. Attendees discussed recent activities building on the release of the guidelines in June 2022 and next steps for the group going into 2023, including a new grant-funded project in Michigan.
Later that afternoon, SP hosted the 3rd and final workshop of its ESG Leadership Strategies project for 2022. This interactive working session focused on developing a proposed 2023 SP ESG Leadership agenda, identifying and prioritizing the projects which would have the greatest value for SP members. The workshop was facilitated by Scott Nadler of Nadler Strategy with four parallel member-led breakouts focused on key challenges emerging from prior workshops, including: internal communication tools; bridging the gap between ambition and achievement; programmatic harmonization of OEM/supplier information requests; and, reducing external reporting burdens.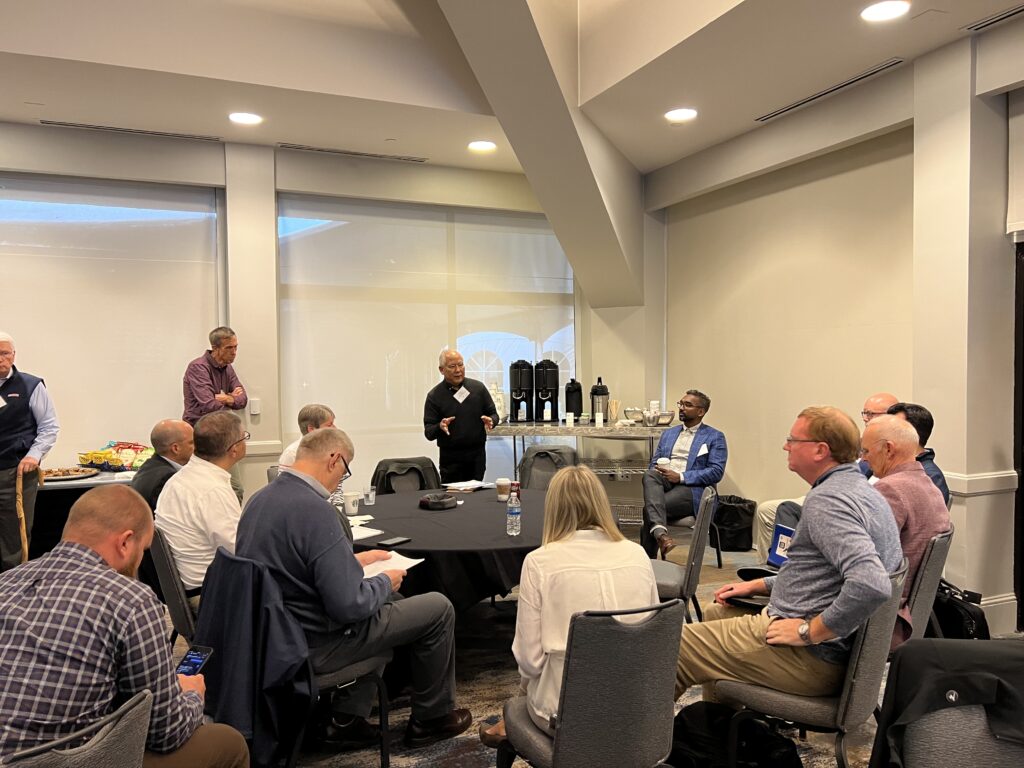 That evening, attendees gathered for an "Old Kentucky Nights" networking event at the Kentucky Horse Park, including a tour of the Kentucky Horse Park grounds and museum.
October 27 — Membership Meeting
On October 27, SP's Q4 membership meeting opened with welcoming comments from Kevin Butt, Toyota Motor and Chair of SP's Board of Directors.
SP's Technology & Innovation Committee Co-Chairs Bob Crawford (GWT Insight) and Vickie Lewis (VMX International) then introduced the SP Awards Program recognizing environmental sustainability leadership in the automotive supply chain and the nominees for 2022.  The following award winners were announced and recognized:
The 2022 SP Community Impact Award went to Lavergne for its Ocean-bound Plastic Recycling Initiative in Haiti. Michael Montpetit accepted the award on behalf of Lavergne.
The 2022 SP Creativity in Implementing Sustainable Practices Award went to Solvay for its Sustainable Manufacturing of a Bio-Based Polymer program. Brian Baleno, Antonella DiMeo and Lee Carvell accepted the award on behalf of Solvay.
The 2022 SP Demonstrating Environmental Innovation in the Manufacturing Process Award went to Henkel for its Next Generation Metal Pretreatment Process. Nick Card accepted the award on behalf of Henkel.
The 2022 SP Shining Star Award went to Bridget Grewal of Magna International for her vision and leadership in promoting industry collaboration to minimize automotive packaging waste.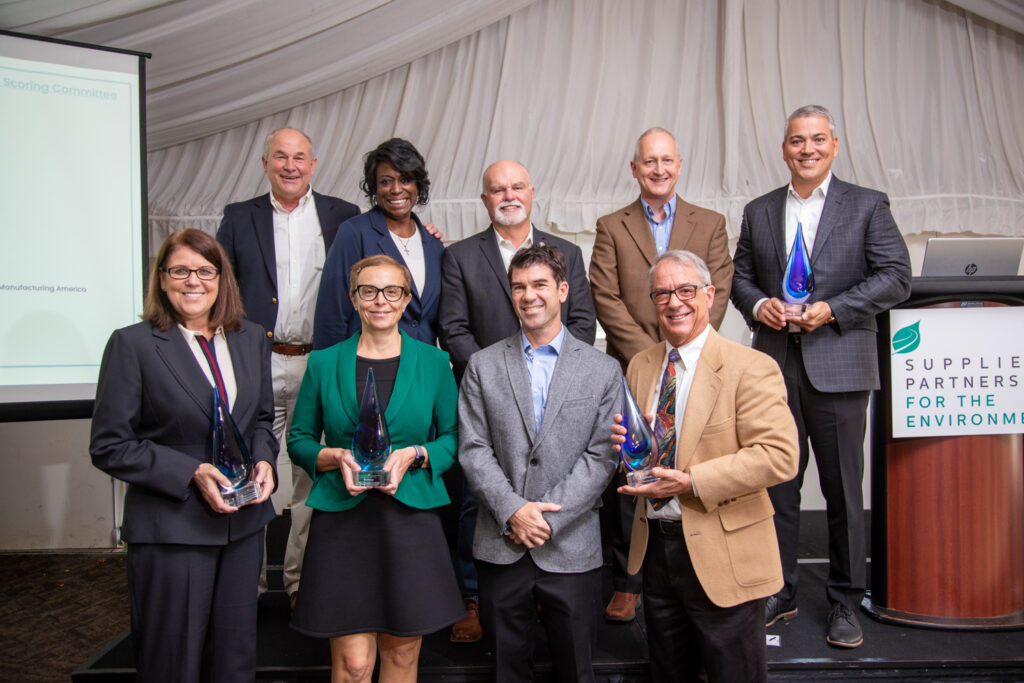 The meeting then continued with presentations from a range of speakers regarding environmental sustainability trends, best practices and opportunities, including:
Blaine Collison (Renewable Thermal Collaborative) shared information on the challenges in decarbonizing thermal energy in the manufacturing process and the work that RTC is pursuing related to technology, policy and market development to address those challenges.
Scott Nadler (Nadler Strategy) provided a report on the outcomes of the 2022 SP ESG Leadership Strategies Project and three potential collaborative opportunities emerging out of the project for SP's consideration in 2023.
Eric Harrington (American Axle & Manufacturing) introduced AAM's sustainability vision and programs and shared information on AAM's science-based targets and the near- and long-term commitments AAM has made to minimize carbon emissions.
David Colclough (Yanfeng Automotive Interiors) shared YFAI's experience with implementing a durable, returnable corrugated packaging design developed by P2 Packaging and highlighted the economic and sustainability benefits YFAI has documented through the program.
Ryan Chappell and Michael Faltenbacher (Sphera) shared information on current best and emerging trends in conducting Product LCA / Carbon Footprint in the automotive industry.
Jeff Haltrecht (Call2Recycle) spoke to a series of infographics developed through a project with the Canadian Vehicle Manufacturers Association (CVMA) succinctly summarizing the current state of EV battery management at end of vehicle life in North America.
John Bradburn (Sustainable Material Solutions) shared information on the Great Lakes Leadership Academy which is a leadership development program for emerging leaders who are committed to strengthening their skills and empowering their communities.
Kellen Mahoney (Suppliers Partnership) reviewed current SP work group activities and provided an update on progress of the work groups, including recent deliverables and upcoming activities related to Carbon Neutrality, EV Battery Recycling, Product Chemical Compliance, Pollinator Projects and Nature Based Solutions, Sustainable Materials, Sustainable Packaging, Technology & Innovation, and Water Stewardship. 
Kevin Butt closed the meeting by thanking participants for their active engagement and inviting SP members and collaborators to reach out to learn more about how to get involved in SP work group activities and initiatives and to share their ideas to keep moving us forward. The next quarterly SP membership will be held on January 25-26, 2023.
Additional information on the Q4 meeting discussions, presentations and next steps is available to current SP member companies. Please contact us if you'd like to learn more about SP and opportunities to participate as a member.