SP Meets at Bosch – May 18, 2016
Pictured above: Cem Onus, DEKRA Certification presents Levent Bayraktar, Bosch Rexroth with Rexroth's ISO 50001 Certificate. 
On May 18, Robert Bosch Corporation hosted SP's 2nd Quarter Membership Meeting at its offices in Farmington Hills, Michigan. David Tarnowski, Director, EHS, Robert Bosch welcomed participants to the meeting and discussed Bosch's environmental sustainability initiatives.
The meeting included discussions focused on advancing energy and water management in manufacturing operations and through the automotive supply chain, improving materials efficiency, and advancing innovation from SP member companies, including Bosch, Ford, General Motors, Johnson Controls, Toyota and Rexroth.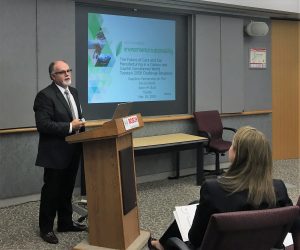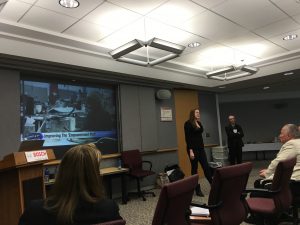 Pictured: (left) Kevin Butt, Toyota; (right) Veronika Scott, The Empowerment Plan, John Bradburn, GM
The meeting also included guest presentations from Andy Hoffman, Holcim (US) Professor of Sustainable Enterprise at University of Michigan; Veronika Scott, Founder and CEO of The Empowerment Plan; Nena Shaw, Director of Integrated Environmental Strategies Division at US EPA; David Herb, RETAP Manager at Michigan Agency for Energy; and, Walt Tunnessen, National Program Manager at US EPA.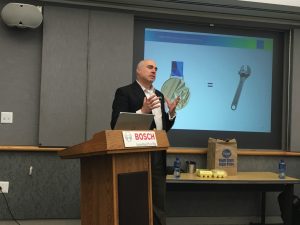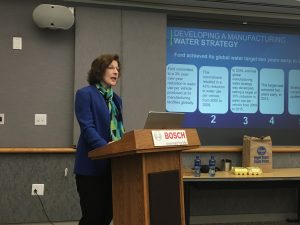 Pictured: (left) Walt Tunnessen, US EPA; (right) Sue Rokosz, Ford
At the conclusion of the meeting, Cem Onus, Managing Director of DEKRA Certification, presented Levent Bayraktar, Facility Management, Bosch Rexroth, with a certificate in recognition of Rexroth's Bethlehem, PA facility's certification to the ISO 50001 standard.