SP Innovation Summit Held at The Ohio State University – Part 2
Hosted in collaboration with The Ohio State University on its campus in Columbus, Ohio over July 27-28, the 2022 SP Innovation Summit brought together nearly 300 representatives from automakers, tiered suppliers, service providers, government and academia to discuss key opportunities to accelerate collaborative efforts in support of industry sustainability goals. Check out our prior post for information on the first day's events.
On July 28, Summit Committee Co-Chairs Vickie Lewis (VMX International) and Bob Crawford (GWT Insight) welcomed attendees to the second day of the Summit. They highlighted the winners and nominees of SP's 2021 Awards and encouraged attendees to submit their projects for consideration in the 2022 SP Awards program.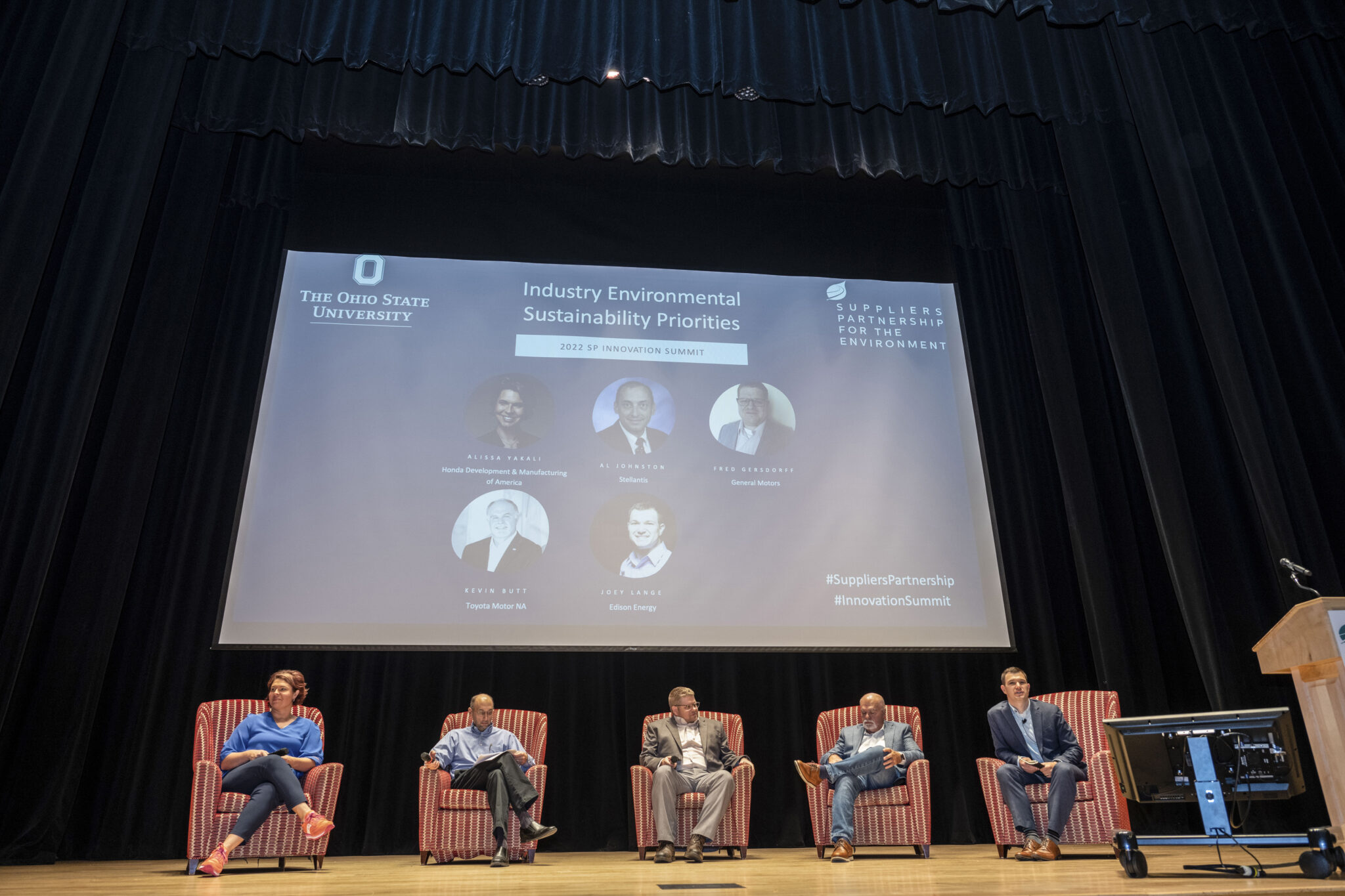 The day began with a panel discussion on industry sustainability priorities. Speakers from SP OEM member companies discussed industry environmental sustainability goals and aspirations, and key challenges and opportunities for innovation to drive meaningful progress. Featured speakers in the opening session included:
Alissa Yakali, Sustainability and Supplier Relations Manager, Honda Development & Manufacturing of America, LLC
Al Johnston, NA Corporate Environmental Programs, Stellantis
Fred Gersdorff, Sr. Manager – Socially Responsible and Sustainable Supply Chain, General Motors
Kevin Butt, Senior Director, Environmental Sustainability, Toyota Motor North America
Moderator: Joey Lange, Managing Director, Energy Supply Advisory, Edison Energy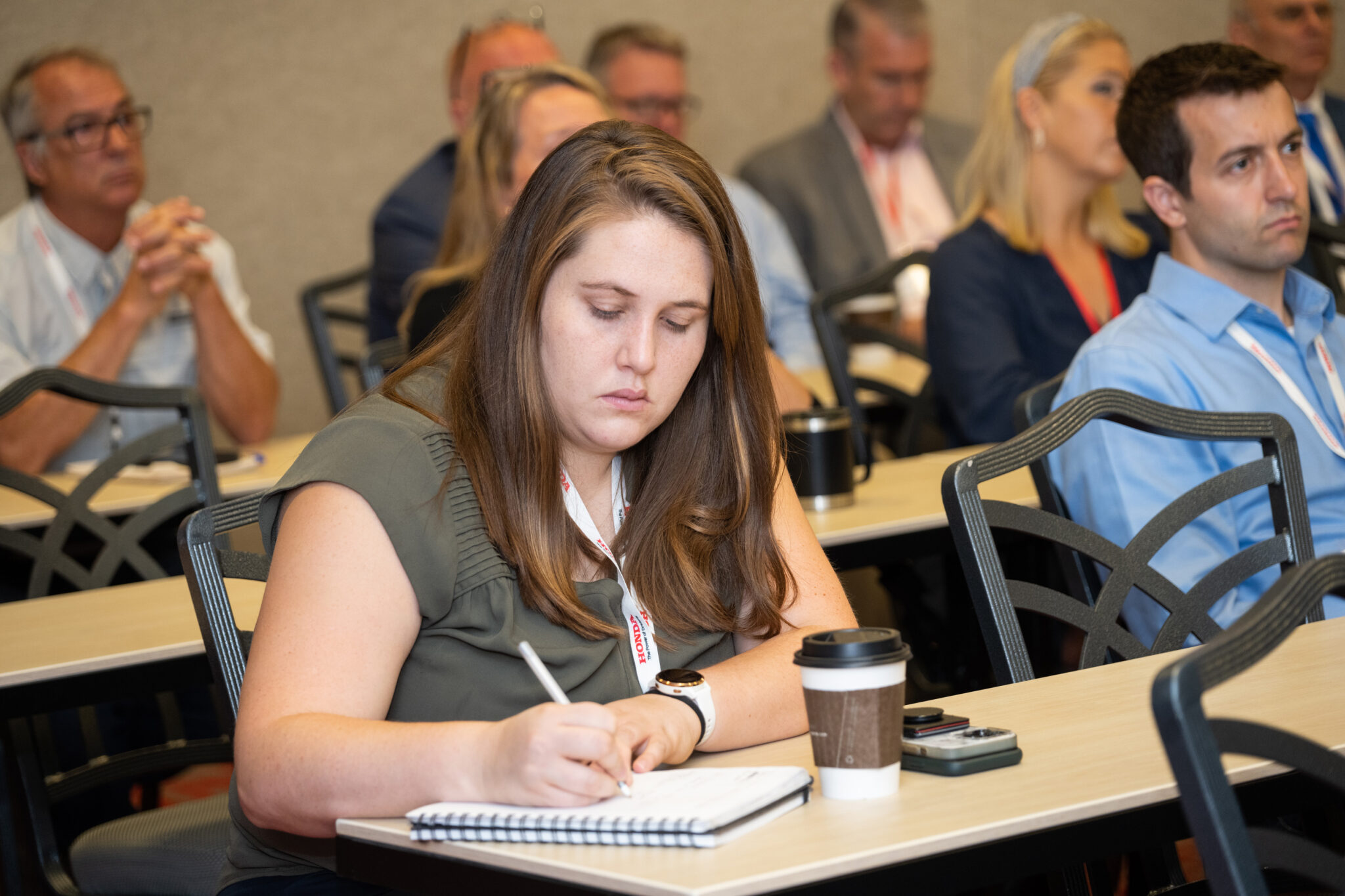 Through the remainder of the morning, Summit attendees had the opportunity to participate in two sets of smaller group interactive breakout sessions providing a deeper dive into topics such as big data sustainability, decarbonization, recycling low value materials, sustainable materials, water conservation, zero waste, and others. The second day's breakout session speakers and moderators included representatives of organizations such as: Concordia University, Ecoclean, ERA Environmental, Monolith, MPS Group, PADNOS, Stellantis, The Ohio State University, and Toyota Motor Manufacturing Kentucky.
In the luncheon keynote session, Tim Kenyon of GfK shared his perspective on Crisis as Catalyst: How global emergencies can push sustainability forward. Tim's presentation examined current trends in green values and buying behavior, the barriers and opportunities that consumers see in EV, and how Gen Z is redefining what it means to be an environmentalist.
The event concluded with an Innovation Showcase session highlighting emerging innovations / technologies with potential to address industry sustainability challenges, moderated by David O'Ryan of Ecoclean. Innovators chosen to present in the showcase session included:
The Potential of Methane Pyrolysis to Decarbonize the Automotive Value Chain: Kristin Oswick, Sales Director, Monolith
Sustainable, renewable, environmentally friendly petroleum replacements: Mark Miller, CEO, Biosynthetic Technologies
Proven Circular Solutions and Sustainable Raw Materials for Automotive Tires and Rubber Applications: Mike Kumbalek, VP Product Development, Bolder Industries
Next Generation Battery Lifecycle Management: Kris Hunter, Director of Business Development, ATC Drivetrain
Electrochemical platform to remove and recover metals from water streams: Cameron Lippert, CEO, ElectraMet
SP's Board Chair Kevin Butt closed by recognizing and thanking the Summit Planning Committee for their efforts in pulling together the event. He noted that as SP works to advance its vision of an automotive industry with positive environmental impact we welcome new ideas and input, and invited guests in attendance to consider joining SP in its efforts as members.
A special thank you to each of our sponsors for their support of this year's event, including: The Ohio State University, ERA Environmental Management Solutions, Nalco Water, an Ecolab Company, Covanta Environmental Solutions, Edison Energy, Ecobat, Honda Development & Manufacturing of America, ARPLANK Direct, Stellantis, and Toyota Tsusho America.
All event photos by Shellee Fisher Photography.
---
SP's next membership meeting is scheduled to be held on October 26-27 in Georgetown, Kentucky. As always, SP members and collaborators are encouraged to reach out to learn more about how to get involved in SP work group activities and initiatives and to share your ideas to keep moving us toward our shared vision of an automotive industry with positive environmental impact.
Additional information on the Summit, including event photos, presentations and next steps, is available to current SP member companies. Please contact us if you'd like to learn more about SP and opportunities to participate as a member.